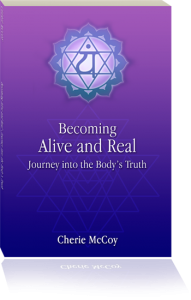 HORRAY!!! I have completed my book — Becoming Alive and Real: Journey into the Body's Truth.
I give many thanks and gratitude to all those that encouraged me and helped me along this journey. I am so excited to share this book with you, and especially the tools within it, hoping that they will remind you of something you have done or seen in a workshop or private session with me.
My intention throughout my writing of this book has been mainly to spread the word of how important it is to search the body for it's truth, resulting in the release of pain, old memories and unconscious behavioral problems. My hope is that this not only helps bring clarity concerning the tools and methods of Self Acceptance Training to those that I have worked with in the past, but also helps to bring the work to new seekers that have not yet discovered the incredible liberation that this work offers.
As you read this book, please hold that intention for me and all the others who really could benefit from this book.
The book is currently available to purchase as an E-Book on Amazon. The E-Book is available for Amazon Kindle devices, but will also work on your computer, tablet, or mobile phone with the Kindle reading app for your device.